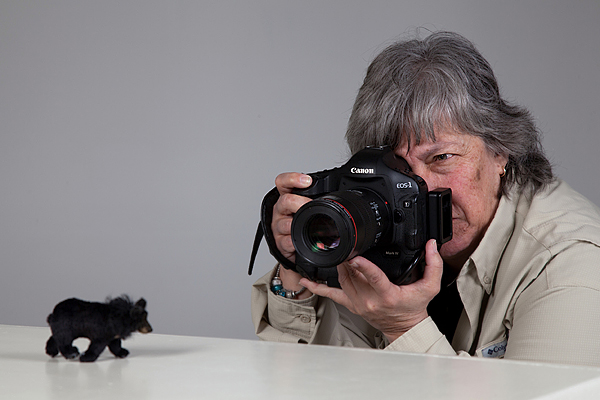 In 1995 I received a gift: a miniature teddy bear kit. I was quite surprised to receive this gift, as I hated everything that had to do with needle and thread.
But I never shied away from a challenge, nor would I shy away now, so I set to work, reading the description, studying the pattern and thus making my first miniature teddy bear. Not at all satisfied with the way this little teddybear looked, I soon learned that for a first bear, I did pretty good.
After that first kit, more kits followed and after about 25 miniature teddybears, I decided I could do without a pattern, I could design my own. So I did.
My seventh design was a teddybear plagued by chicken pocks, with four different limbs, for he had an itch on his back and on his toe… He needed to scratch, hence the difference between both arms and both legs.. I entered him into a competition, my first competition, participating in the novice
category. To my utmost surprise I won the first prize, and it would not be the only one. More awards followed.
In the mean time I had decided that with so many teddybear artists out there, nobody was waiting for yet another miniature teddybear artist, so I had to come up with something different. I chose to make natural bears, using books as a guide. Occasionally I got inspired by a children's book and this resulted in natural bears with a comical side to them. Polar bears were my favorite!
I always tried to make my bears, miniatures under 8 cm (3"), as natural looking as possible, to resemble the photos I found in one of the many books on bears that I had bought in the mean time. But the collector could change the pose of the bear, as the legs and headwere jointed. And this was exactly what I did not like, for I had chosen the photo for that special pose, not to see it altered. So I decided to make my bears without joints, frozen in the position that had caught my attention, the position that called out to me to transfer the photo into a miniature bear.
The biggest compliment I was ever given was the "accusation" that I had invented a shrinking ray, gone into the woods, found myself a bear and used my ray on him, and now had the bear on display on my table, a sort of "people, I shrunk the bear" as a variety on "Honey I shrunk the kids"..
Still I wasn't satisfied, for the books I had bought in abundance and used were available to all. I was looking for something different and bought some photos from nature photographers, but once again, those photos were available to everybody.
At the young age of eight, I was given my first camera and I wanted to become a photographer, but circumstances made that impossible. As I got older and became a mother, my camera started collecting dust… Now that my boys were older, I had more time to take photos, but I only had the zoos to photograph bears. But I got my chance, when my husband took me on a vacation to Canada, where I finally got my first view of bears in the wild, the American Black Bear. Of course my
camera was being put to good use, this was a dream come true!
In 2011 I finally got to go where my heart wanted to go : I went on a trip to Churchill, Manitoba in Canada to see my favorite, the polar bears in the wild. No words can describe what went through my heart and mind, when I finally saw these magnificent bears in their natural habitat, sparring with each other, cleaning their fur in the freshly fallen snow… My camera was working overtime, I came home with loads of photos! Now I had my own photos to use as a lead when designing my miniature
bears! It seemed like a good idea to show that photo with the bear and thus I got the idea to hand out the photo with the bear, when someone wanted to adopt it.

In 2013 I took one more trip, this time to see the coastal brown bears in Alaska. These are the largest amongst the brown bears… It was a very different experience to the one in Canada, where you sat protected in a Tundra Buggy, here you walked freely in bear country, always talking, singing, making sure a bear would hear you, so he would not be surprised by you… Always vigilant, a bear could be right around the corner and the bear does have the right of way… Only once did I come face to face with a bear, and let me tell you, 12 feet is way too close!!
My passion for photography grew, my love for bears and nature kept abreast. I have searched for a way to combine both passions and found that in the making of bears to a photo, but also in making objects with a practical use, with a print of one of my photos on it.
Mostly I now work from my own photos, but occasionally I will ask permission of a befriended nature photographer to use his photo and to hand out a print of said photo. I am referring to photos taken in places where I have no way of going to, or moments that are almost impossible to witness, unless you live there.
All photos that I use to make my bears will be used only once, for each bear I design a new pattern.
The photos that are being used for shoulder bags, wallets and other useful items, will never be used more than seven times. For these I only use my own photos.
Thus I have found a balance between two disciplines: photography and the making of miniature bears.